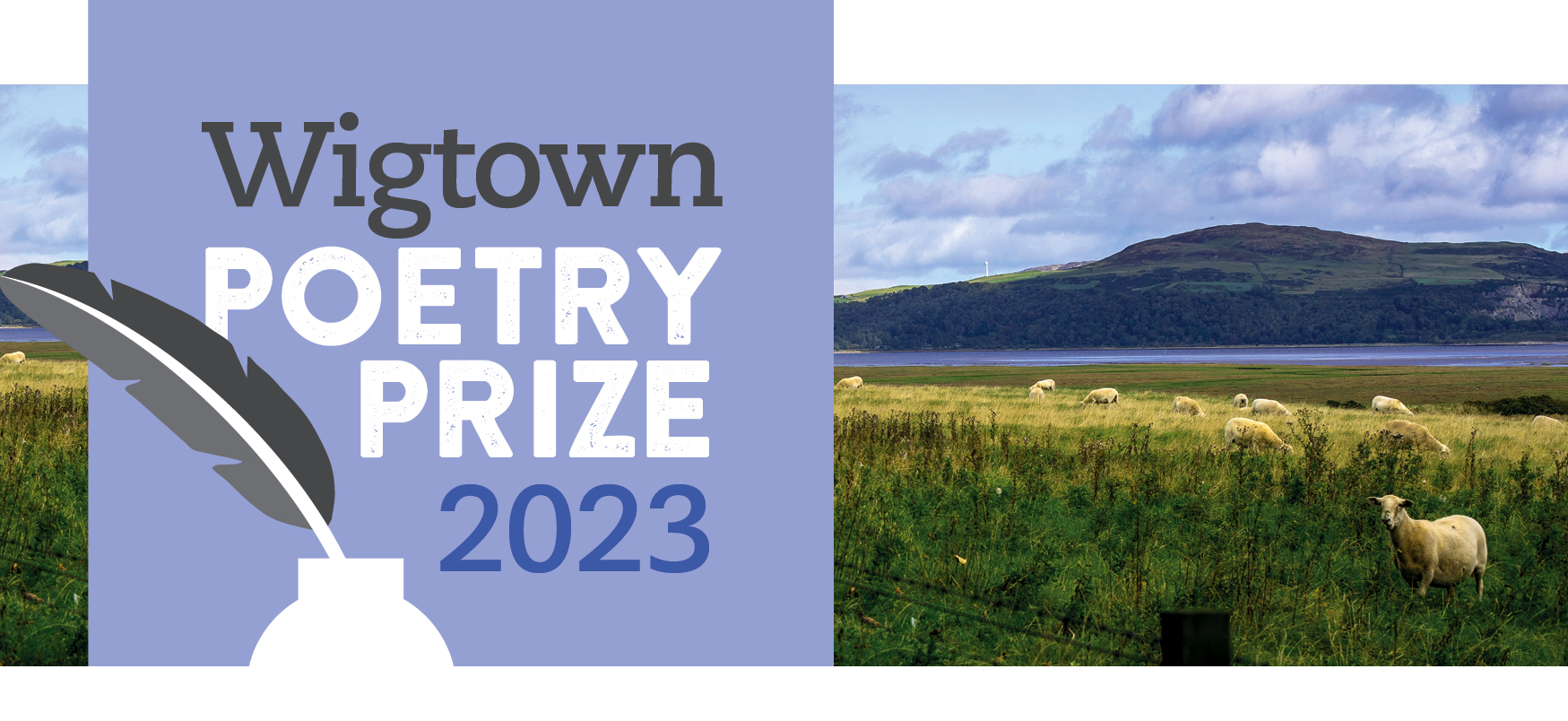 2019 Wigtown Poetry Prize Judges Comments
Many thanks to our 2019 judges - John Burnside, Kevin MacNeil and Gerda Stevenson
John Burnside
When it comes to judging poetry, I begin by applying a few rules that, from years of trying – or rather, of trying not to try too hard – I have worked out for my own writing. They are fairly straightforward: if something is personal, write it in the diary; if it can be said in prose, that is in the music of prose rather than the music of poetry, say it in prose (if nor no other reason than that this is economical with paper) and – here's a tricky one - no matter how much I may love my cat / dog / children / grandmother, I cannot expect other people to love them as much, or even find them as interesting, just for their own sake. This is not to say that we cannot write about cats, dogs or relatives – they all have made great subjects for some of our finest poets, historically – it's just that, if I write about a cat, or a daughter, the subject has to include, not just my pet or child, but everybody's.
That said, the rules do not take me very far – and I am left with our old friend, je ne sais quoi. It doesn't matter how interesting the subject matter of a poem is, if it doesn't have the mix of music and engagement with the language that, without necessarily being able to rationalize it, I respond to on a level beyond just making sense of it. It's not only a matter of gut feel, it's a mental process too, an auditory process – a good poem starts singing itself in the mind's ear, even if it's still confined to print – and, most of all, it is an invitation to reinvent some element of the given environment in some unexpected way. In the end, that is what I am looking for in making a judgment – and though I cannot say in so many words how I carry out that search, I know what I have been looking for when I find it.
Kevin MacNeil
It was an honour - and a fascinating one, at that - to be Judge of this year's Wigtown Poetry Prize for Gaelic. I was thrilled to witness the sheer diversity of writing styles and themes, to the extent that I feel talk of a Gaelic poetry renaissance is not at all exaggerated or unfeasible. Gaelic might be a minority language in quantitative terms, but that is by no means true in qualitative terms, for this is a literature that squares up to the large themes with fresh, eloquent, powerful voices. These are works that marry political, philosophical and cultural issues with lyricism and rage, dignity and humour, passion and intelligence. At the heart of it all is a resonant humanity, a love of life, language and literature. What a joyful challenge it has been, journeying through these poems to find a winner!
I thoroughly enjoyed immersing myself in the large number of submissions and I respected the fact that the pieces were forwarded to me anonymously as I was able to focus purely on the poem and not, for example, on comparing it to previous works by that bard, or otherwise contextualising it. I was headspinningly surprised to note that the five shortlisted poems are all by male writers (and that, contrastingly, almost all of the shortlisted poems in the Scots competition are by female writers. Still, perhaps it is not necessary to read too much into that here).
The three commended poems are wonderful in different ways. 'Reul an t-Samhraidh' is an authentic-seeming lyric of the kind I very much like; the imagery is not only derived from the natural world (forest, star, heron) but the living world of the here and now (a satellite moves 'gu dòigheil'/'happily' through the poem). This poem is convincing, a rather optimistic moment brought deliciously to life, at once intense and exapansive. 'Aitichte' also offers an invigorating vitality in its ending, after evoking an all-too-familiar image of a cultural and familial warmth that has been actively and unjustly dissipated. It is a wise, principled and deeply rooted poem. 'Gaoisnean Ruadh-dhonn' is a poem that is at once tightly focused and far-reaching. Using hair as a trope representing family connections, the passing of time, and our personal and collective inheritance, the poem elevates itself into a meditation on inner contentment, and does so in a most memorable fashion.
#AgusMise - the hashtag alone is a sign that we are dealing with the most contemporary of poems - addresses the zeitgeisty (and yet, alas, seemingly perennial) issue of inappropriate sexual behaviour; the title translates as #MeToo. The poem is delivered in a clean, clear manner that seems at once real and, because of an impressive restraint, devastating. #AgusMise is a truly effective piece of writing - when I first read it, I had to put the poem down and recover from it. This is a poem eminently worthy of being awarded Second Place in the 2019 Wigtown Gaelic Poetry Prize.
The Overall Winner of the Wigtown Gaelic Poetry Prize 2019 is 'Claidheamh mo sheanair' - a poem I love for many reasons. As with all the poems mentioned here, it feels vivid and authentic (regardless of whether or not it is based on literal truth). The poem is a layered and compelling piece of writing with potent imagery, a psychologically and emotionally engaging narrative that touches on major themes with subtlety and insight; it speaks of the interconnectedness of all things, of the tangibles and intangibles we must all negotiate, of past and present, of self and other, of how events and our interpretations of them impinge upon the mind. Like the sword it describes, this poem is quite something to behold; it shines lastingly.
I wish to thank all at the Wigtown Book Festival and their sponsors for allowing this important competition to exist, and finally I offer my gratitude to all those who submitted work. It was humbling to read so many terrific poems and if you didn't win this year, please do try again next year.
Gerda Stevenson
Judging a poetry competition – or any kind of competition – is no easy task. As a poet who has entered work into competitions myself, I know how we hope that the judge, or judges, will reciprocate, to some extent at least, the time we've taken to write our work, and to submit it.
Of course, to a certain extent, any judgment is bound to be subjective. But there are such factors as technique: a marriage of content and form; the music of the language – rhythm, assonance – whether free verse or sometimes rhyme – the energy and the tone. To me, a poem only has a half-life on the page, and has to be spoken out loud to fully achieve its meaning and form.
When it comes to Scots, there is a vast canvas of language. There's no such thing as 'standard' or 'correct' Scots. There are so many varieties – the Shetlandic of Christine De Luca, for example, Sheena Blackhall's Doric, or Violet Jacob's Angus Scots. And then there's the 'synthetic' Scots of MacDiarmid and Edwin Morgan. Morgan's verse drama Phaedra, a translation from Racine's French, is a gloriously daring and scintillating ragbag of Scots. His version of the play, firmly set in ancient Greece, uses the Scots of the great Border Ballads, as well as Doric and contemporary Glaswegian – in fact, anything that grabs his fantoush fancy! So the scope is very wide indeed.
The submissions to this competition are hugely varied in subject matter –computer technology, politics, history, the domestic arena, lyrical responses to landscape – urban and rural – translations from the ancient Chinese of Du Fu, and poems inspired by the work of Shakespeare and George Mackay Brown.
The Scots language itself among the submissions is wide-ranging too – from old, classical language, in the style of Henryson and Dunbar, to contemporary Scots from aa the airts o oor braid countrie. The form has been very varied too – from free verse to familiar ballad stanzas, and everything in between.
The process hasn't been easy, particularly as a solo judge – no colleagues with whom to chew the fat. I have read through all the submissions several times, and have left days in between, to give space for poems tae rax oot thair lines intae the hinnermaist pairts o ma thochts and mindin. I am judging them completely blind, with absolutely no knowledge as to who the poets may be. Here are my comments on the poems I selected for the shortlist, in no particular order:
With minimally spare language, The Lowes explores with poised eloquence the relationship between a human being and a landscape, at that transient moment on the cusp between day and night. The person is walking along a seashore alone, and, experiencing a feeling of vulnerability as the immense sunset intensifies, turns in the opposite direction, towards distant houses whose windows reflect the sunset's fire, but hold the comfort of human habitation. The attention to rhythm and sound in this poem is very fine, with assonance well crafted. The language is distilled, the majority of the words monosyllables. The form of the poem echoes the content – a moment balanced in time:
…an stell masel fur the lowe
i the western lift, that still
Aa canna thole.
Thae gleeds o reid an gowd
wad wrack the thrawnest hert;
they steik me yet
an reive ma saul
athoot Aa jink ma een
Fower Attacks is a powerful narrative poem, in four stanzas, each driving forward the dramatic story of losing a father – poignant and tenderly told. The language – a striking balance of prosaic and poetic – creates a very specific East coast world of poverty, with visceral,, unflinching descriptions of physical frailty and illness:
…efter a winter's shift, dovered ower,
waukent wi mune-gash faces whirlin about ye,
white hauns flaffin in front o yer een like doos,
and
…hame fae the pub – I thocht it wes the drink,
reddin the bed-settee fast as I cuid,
breengin intae the scullery for a bowl,
feelin the wecht hit it as ye tuimed yer wame,
Short listed poems:
Shiftin (by Mhairi Owens) takes that familiar human practice of finding an image in cloud formations, and presents a dramatic moment of interpreting a skyscape as an old shape-shifting hag – a cailleach. The language is controlled, and atmospheric, matching the image:
She rose wi a stang
tae peesies soonin
roon the derklins
mairsh,
pued the sky
doon, like a pelt
aboot her shooders
an let scaum
tae silhouette
ivery rig.
Glasgow Central (by Ann MacKinnon) is a meditation on mortality, set in the thronging railway station of that name. The poet stands in the concourse, observing everything – the architecture, the list of destinations on the departures notice, and fancies a trip to the country, but is drawn back to the present, reflecting on the legendary 'ghost station' that lies below the modern day one, and the ghosts of those who once travelled through its now empty platforms. The language is vivid and terse, full of arresting juxtapositions:
In ma mind I stravaig past
gress parks, stane dykes,
stations filled wi flooers.
But ablow ma feet there lies
anither wirld tae reenge through –
the saicrit daipths aneath us.
A place o legents and mestrie,
stories never tellt and a guff o daith
On the toom platforms, stoor and ash…
Whit was hid for, Rachel Whaness' womb? (by Jane Burn) This poem is in Orcadian Scots. In a series of exquisitely restrained, yet devastating three-line stanzas, the poet addresses a deeply troubled character (Rachel Whaness, a childless wife), from George Mackay Brown's novel Greenvoe. The poem is a psychological study of a woman's utter isolation, rejected by an unfaithful husband, and conjures the detail of her painfully restricted world. She is unable to find comfort in the Christian religion she adheres to:
A cavern ahint her belt-band, an un-filled kirn.
Just wance she thought she felt a letter-flee's kindle,
Thought at a seed had taken, like a kleck tae her flesh.
Thoo wakken and wush, for 'cleanliness is', hent yir hair
and wup hid back tae hids clew atop yir heid.
Rachel thoo were only doing God's wark…
The poem On hearin Auld Lang Syne Tae a Different Tune (by Dorothy Lawrenson) is a refreshingly unexpected take on something that is familiar to all of us:
Auld freen, yer new claes
are braw – for a meenit but,
Aa'm stammagastert. Syne
the unco casts the kent
in a new licht.
This poem is well structured – spare and eloquent, the conclusion tied off with a pleasingly rhymed couplet. For the poet, the new melody is equivalent to meeting an old friend in new attire – initially so unfamiliar as to be unrecognisable. But the strange garb reveals something new in both the observed and the observer – and there's a hint that nothing is lost in this departure from the traditional, a feeling that both friends are changed for the better by embracing the unknown – the core of the relationship is only deepened.